A wise man once said that future events often cast their shadow. Well, the charisma, the aura, the commanding figure of Akin Ambode seem to declare something obvious about the man," behold the next executive governor of Lagos State". One look at Ambode's campaign organization and you see people with a clear cut vision, a clear mission and goal oriented too. This obviously must be the next governor of Lagos State in waiting.
The Skypower Ground, Ikeja, Lagos was beehive of activities as a huge crowd throng the place for the flag-off campaign of the All Progressive Congress (APC) governorship candidate, Akinwunmi Ambode.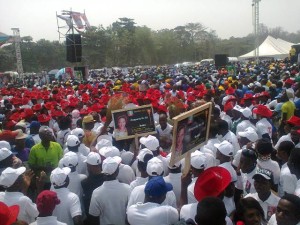 The crowd of well over 50,000 far exceeded the number that came to the Tafawa Balewa Square last week when President Goodluck Jonathan flagged off his campaign in Lagos.
Party faithful with brooms and various posters of the various candidates for the House of Representatives, Assembly and others throng the venue singing and chanting praises of their mentors.
Music was supplied by the ban of Wasiu Ayinde as the music maestro thrilled the large crowd with stupendous performance. APC leaders such as Bola Ahmed Tinubu, Prince Tajudeen Olusi, Henry Ajomale, Babatunde Fashola, Gbenga Ashafa, Lai Muhammed, among others were present at the event.
Political thugs occasionally will cause little skirmish here and there leading to panic, but the police were up to the task as they quell every act of belligerency.
Speaking, Babaunde Fashola berated the PDP for destroying the economy of the nation, saying that the party must be voted out of power.
The governor lamented that Jonathan had been giving excuses not to fight insecurity by hinging it on the fact that the APC presidential candidate, Muhammed Buhari did not purchase guns for the armed forces in 1985.
"I cannot come to the public and say I can't do my job because people failed. You cannot say you can't fight insecurity because they did not buy you guns. Buhari left in 1985. If he bought guns, do you want to use 1985 guns to fight today's insecurity?"
Lagos State Chairman of the APC, Chief Henry Ajomale said there was no way the PDP could win Lagos State, saying that the party that had destroyed the economy of this nation did not deserve to be voted for.
"We must change and put somebody who can do the job. We have a problem in Nigeria, corruption and poor economy is facing the nation. Unemployment is also high too," he lamented.
Also speaking, Ambode stated that his administration would protect lives and properties of the people and would ensure that the dividend of democracy was delivered to the people of the state.
Addressing the crowd, Tinubu said the PDP is nothing but a political Ebola that has destroyed the nation and plunged it into the abyss, saying there was no reason the party could continue to hold on to power.